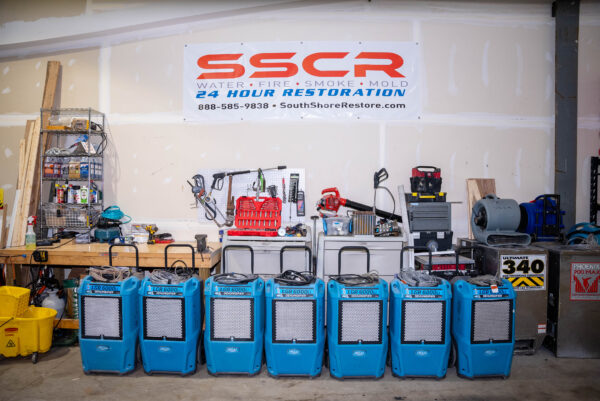 Water damage restoration is the process of restoring your property to its pre-damaged state after any level of water penetration. It is important to take action quickly to prevent additional damage and costs. New England weather may be fierce and we all know that spring and fall bring lots of storms with wind, rains and flooding. Many properties are located in flood zones and are susceptible to water damages by flooding.
The best way to protect your property is to be prepared for inclement weather. In order to reduce or prevent water damage it is a good idea to take care of the roof leaks, prepare pipes for freezing temperatures and think ahead on other potential water- related problems.
Should an accident still occur, you can reduce your stress and entrust us as your water damage restoration experts. Our team of trained experts in Braintree and the surrounding areas are available 24/7 to assist you with any water destruction caused by floods, burst pipes, or roof leaks. We use advanced equipment and techniques to remove water quickly and efficiently, then dry and dehumidify affected areas. We also sanitize and treat the structure to prevent mold growth and other health hazards.
Without proper drying and treating water damaged areas, mold can start growing quickly, leading to a new problem. Here at SSCR we have the newest drying equipment and experience to get your home or business up and running fast. South Shore Cleaning and Restoration Inc. can also do comprehensive fire and water damage restoration that can happen after a fire was extinguished in the property, resulting in more extensive damage. By offering emergency 24/7 service for water and fire damage restoration, our company is a one–stop shop capable of handling all aspects of the restoration process, from initial assessment to complete restoration. We are fully trained and certified with the IICRC to help you through this trying time.
Yes, we work with insurance companies — we are trained in their specialized billing process.
To reduce the stress of your situation we offer to work with your insurance adjuster. After signing our contact we can take the process into our hands.
Locally owned and operated with over 25 years of experience
We offer 24 Hour Emergency services for water damage, as well as pipe bursts.
South Shore Cleaning and Restoration Inc. is a full service restoration company. With our 24/7 emergency service covering Barnstable, Bristol, Norfolk and Plymouth Counties, you can rely on us to respond promptly to your restoration needs. Whether you need mold, water, or fire restoration, our team of specialists can help you through any restoration needs. Contact us today for a free estimate. (888) 585-9838, deckman@sscrinc.net
Water damage restoration is the process of removing water, drying and sanitizing materials where water damage occurred. This may include complete water damage restoration of your property to its original condition.
Water damage drying takes up to 3 days, depending on the damage. After that, the damage restoration begins and it can take longer, as the property is being restored to its former condition.