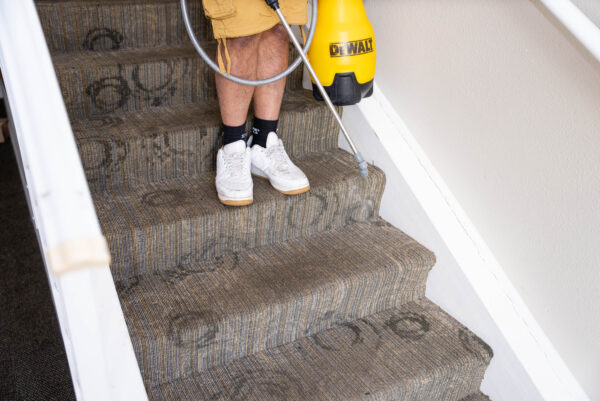 We understand that the odor removal process can be stinky! We take the time to meet with you to explain all the details and answer any questions you may have.
Who wants to live in a newly purchased home that has all the smells of the previous owner's. Whether it is cigarette smoke, pets, food, chemicals, etc. Bad smells can also cause health problems; such as a headache, nose and throat irritation and sneezing. No matter what is the source of the odor in your home, be it the smoke from the fire or pets, musty smell or chemicals, South Shore Cleaning and Restoration Inc. can help eliminate those odors. We want you to be as comfortable as possible throughout the process, which is why we provide a step-by-step explanation and work closely with you to develop the best solution for you and your home. Sometimes it may take a few treatments to get rid of the smell. Musty smells can indicate another problem, and that could be mold! The mold can be a result of water damage, and open a door to a world of problems. The odor removal can also be done simply by professional carpet cleaning in some cases.
Our experienced team members are trained to identify and eliminate offensive odors. We RID of that smell using professional odor removal techniques to deal with the source of the problem. With years of experience, and various equipment, we can battle any odor!
Our company offers comprehensive services that approach any problem from different angles, thus we are the only one that you will need to resolve your problem. With our odor removal service covering Barnstable, Bristol, Norfolk and Plymouth counties, you can rely on us to respond promptly to your request and provide the best service possible.
Yes, we work with insurance companies — we are trained in their specialized billing process.
To reduce the stress of your situation we offer to work with your insurance adjuster. After signing our contact we can take the process into our hands.
Locally owned and operated with over 25 years of experience
South Shore Cleaning and Restoration Inc. is a full service restoration company. With our 24/7 emergency service covering Barnstable, Bristol, Norfolk and Plymouth Counties, you can rely on us to respond promptly to your restoration needs. Whether you need mold, water, or fire restoration, our team of specialists can help you through any restoration needs. Contact us today for a free estimate. (888) 585-9838, deckman@sscrinc.net