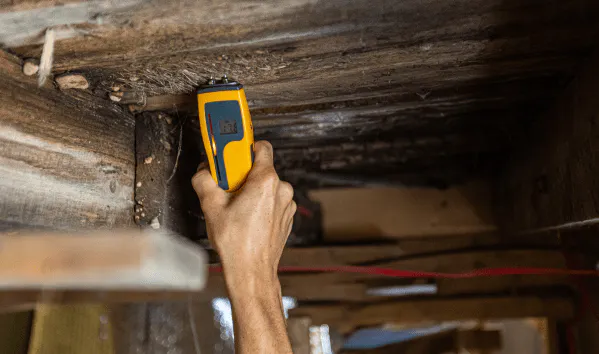 If you have been noticing moisture or water accumulating in your home or business, and are unsure of the source, it is crucial to address the issue promptly to prevent further damage and potential health risks. At South Shore Cleaning and Restoration Inc., we offer comprehensive moisture and mold inspection services to help you identify and mitigate moisture-related problems.
Excess moisture can lead to a range of issues, including mold growth, structural damage, and compromised indoor air quality. Our team of professionals is trained and equipped to evaluate and locate areas of excess moisture within your property. Using state-of-the-art moisture testing equipment and their expertise, our technicians can accurately identify the source of the problem and provide recommendations for remediation.
Moisture accumulation can occur due to various factors, such as plumbing leaks, roof leaks, condensation, or improper ventilation. If left unaddressed, it can create an ideal environment for mold to thrive. Mold growth not only damages your property but can also pose health risks, especially for individuals with respiratory issues or weakened immune systems. By detecting and addressing moisture issues early on, you can prevent mold growth and the need for extensive remediation in the future.
At South Shore Cleaning and Restoration Inc., we understand the importance of timely action. If mold is detected, we can provide comprehensive mold remediation services to eliminate the problem and restore your property to a safe and healthy condition.
We are committed to providing top-quality services and ensuring customer satisfaction. With our 24/7 emergency service, we are available to respond promptly to your needs, no matter the time of day. Serving Barnstable, Bristol, Norfolk, and Plymouth counties, our experienced team is ready to assist you with your moisture and mold inspection needs.
Don't let excess moisture and mold compromise your property and well-being. Contact us today for a free estimate and to schedule a professional moisture and mold inspection. Our dedicated team is here to provide you with reliable solutions and peace of mind.
Locally owned and operated with over 25 years of experience