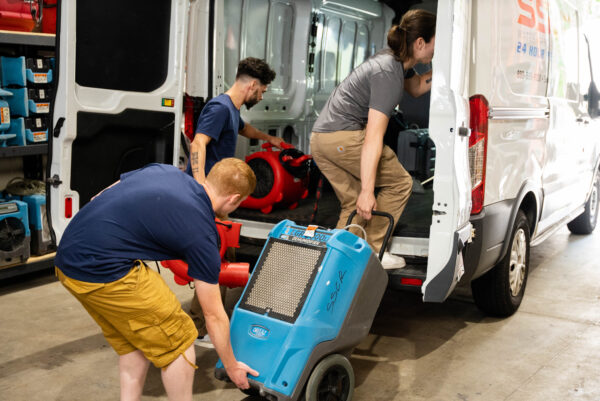 The aftermath of a fire can be as dangerous as the fire itself. Smoke and soot can travel throughout a structure, reaching every nook and cranny, even if the fire is contained in one area. Toxic fumes from the smoke and soot can create a hazardous situation. We understand the immense challenges and risks associated with fire incidents, including the lingering effects of smoke and soot.
Often fire damage comes along with water damage, and water damage can lead to mold and rot, completely destroying your property. At South Shore Cleaning and Restoration Inc., we specialize in comprehensive fire and water damage restoration services, including smoke damage restoration, fire damage clean up, and soot remediation.
It's important to have highly trained professionals with the knowledge, experience and tools to clean up fire damage, remove the smell of smoke, and soot. Our experts employ specialized techniques and advanced equipment to effectively remove the odor and eliminate any hazardous particles, ensuring a safe and healthy environment. We use appropriate personal protective measures to safely clean, deodorize and restore your property.
Our team works tirelessly to bring peace of mind to our customers, offering efficient and reliable services that prioritize your safety and well-being.
Our goal is always to restore your home to pre-loss condition. Our fire damage restoration service is designed to provide fire damage clean-up that covers all aspects, alleviating your worries during a challenging time. With our 24/7 emergency services covering Barnstable, Bristol, Norfolk and Plymouth counties, you can rely on us to respond promptly to your fire or water damage restoration needs.
Yes, we work with insurance companies — we are trained in their specialized billing process.
To reduce the stress of your situation we offer to work with your insurance adjuster. After signing our contact we can take the process into our hands.
Locally owned and operated with over 25 years of experience
We offer 24 Hour Emergency services for kitchen fires and soot damage.
South Shore Cleaning and Restoration Inc. is a full service restoration company. With our 24/7 emergency service covering Barnstable, Bristol, Norfolk and Plymouth Counties, you can rely on us to respond promptly to your restoration needs. Whether you need mold, water, or fire restoration, our team of specialists can help you through any restoration needs. Contact us today for a free estimate. (888) 585-9838, deckman@sscrinc.net
Even a small fire can cause soot and smell to saturate the surfaces in your home. To properly and safely remove odor and clean soot after a fire, you should use a professional fire restoration service. It can be dangerous to clean any sort of fire damage yourself as the chemicals you may be using might cause a chemical reaction.
After the initial danger is over, fire is extinguished and you are safe, conduct a full house inspection. It is better to be done professionally. Try to salvage as many belongings as possible. Call you insurance and see what they can cover. Call us at SSCR for help.