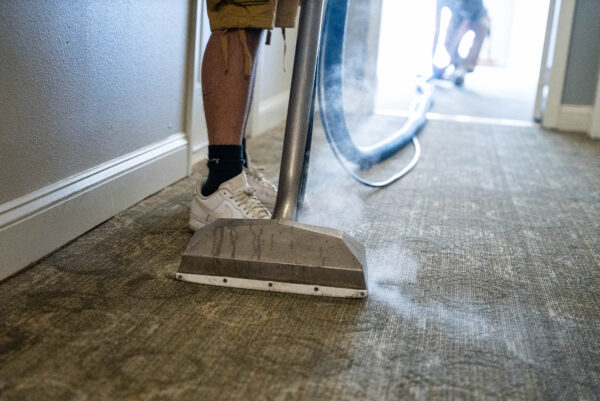 Your home is your biggest investment and the carpet could possibly make up a large part of that. Your carpet also has the most use of any other surface in your home. If you don't take proper care of it, it can start to mat, fade, and fray. This will not only lead to an unsightly appearance, but it will also cost you a lot of money to replace it prematurely.
Carpets can also be saturated with smells and stains; such as food, pets, chemicals, and cigarettes. Regular professional carpet cleaning will ensure odor and stain removal, which will extend the life of your carpet. At South Shore Cleaning and Restoration Inc., our team uses the latest products and processes available to remove stains. We are a family- owned and operated local company and we can always treat our clients as friends. We work to your specifications and guarantee that the job will be done right.
How often do you need to have your carpets professionally cleaned? The frequency of cleaning depends on the business or home, or your particular case. Homes with kids, pets, smokers or high traffic areas will require cleaning more often. For commercial properties we recommend steam cleaning at least four times a year, depending on occupancy and if pets are allowed.
Getting your carpet cleaned will make them look and feel like new. Here at SSCR we use eco-friendly and child/pet friendly products and methods, so you don't have to worry about your safety. All that's left is for you to enjoy your carpets.
Yes, we work with insurance companies — we are trained in their specialized billing process.
To reduce the stress of your situation we offer to work with your insurance adjuster. After signing our contact we can take the process into our hands.
Locally owned and operated with over 25 years of experience
South Shore Cleaning and Restoration Inc. is a full service restoration company. With our 24/7 emergency service covering Barnstable, Bristol, Norfolk and Plymouth Counties, you can rely on us to respond promptly to your restoration needs. Whether you need mold, water, or fire restoration, our team of specialists can help you through any restoration needs. Contact us today for a free estimate. (888) 585-9838, deckman@sscrinc.net
Steam cleaning is eco-friendly, using a smaller amount of water than Shampooing. We do not use harsh chemicals, and we use very little water. We use naturally derived detergents with enzymes to break down stains and odors gently.
After the carpet cleaning it takes about 6-10 hours to dry. We can install fans to speed up the process. In some cases it can take up to 24 hours to completely dry after a deep carpet cleaning.
Yes, we offer carpet cleaning for both residential and commercial customers!